---

---
Designed by Thierry ARSAUT.
Thierry ARSAUT (eMail)
19 lot.Pétripaule,
Imp.Cattun, Bassussarry
64200 BIARRITZ
FRANCE
Tél.(33) 05-59-43-13-78 (answering machine)
This font is a synthesis of the most famous types used across the Basque country (North & South) since 1950. Most of Basque special characters, as doble-T, doble-R, TS, TX, TZ & HE have been included to this font.

EXAMPLES :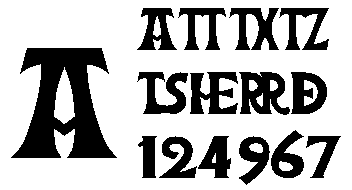 STONE CARVING USING A COMBINATION OF CLASSIC & OSTOA STYLES :

GO BACK...